Guess what?!  I've got a big surprise for you…us!  So, in case you didn't know, there's a group of us who meet every morning at about 7:35am Central Standard Time, Monday through Friday on Periscope (it's an app for your phone).  We just finished up reading through the Book of Philippians together and it was so much fun!  It's our own little morning Bible study where we talk about the scriptures, Bible journaling and verse mapping.  I kind of thought we might start reading the Book of Sirach together starting Monday, but there's been a change in plans.  Beginning Monday we will start reading the two letters Paul wrote to Timothy, 1 Timothy and 2 Timothy.  But wait, there's more!  I created a Bible Study and Journal to go with it!  And it's totally free for email subscribers!  If you are an email subscriber, you will find it in the "Subscriber Freebies" link in the email you received.  If you're not an email subscriber, click here to subscribe.
*UPDATE: I've written a book, Bible Journaling Tips, Inspiration and Permission, to encourage and inspire you in your Bible journaling!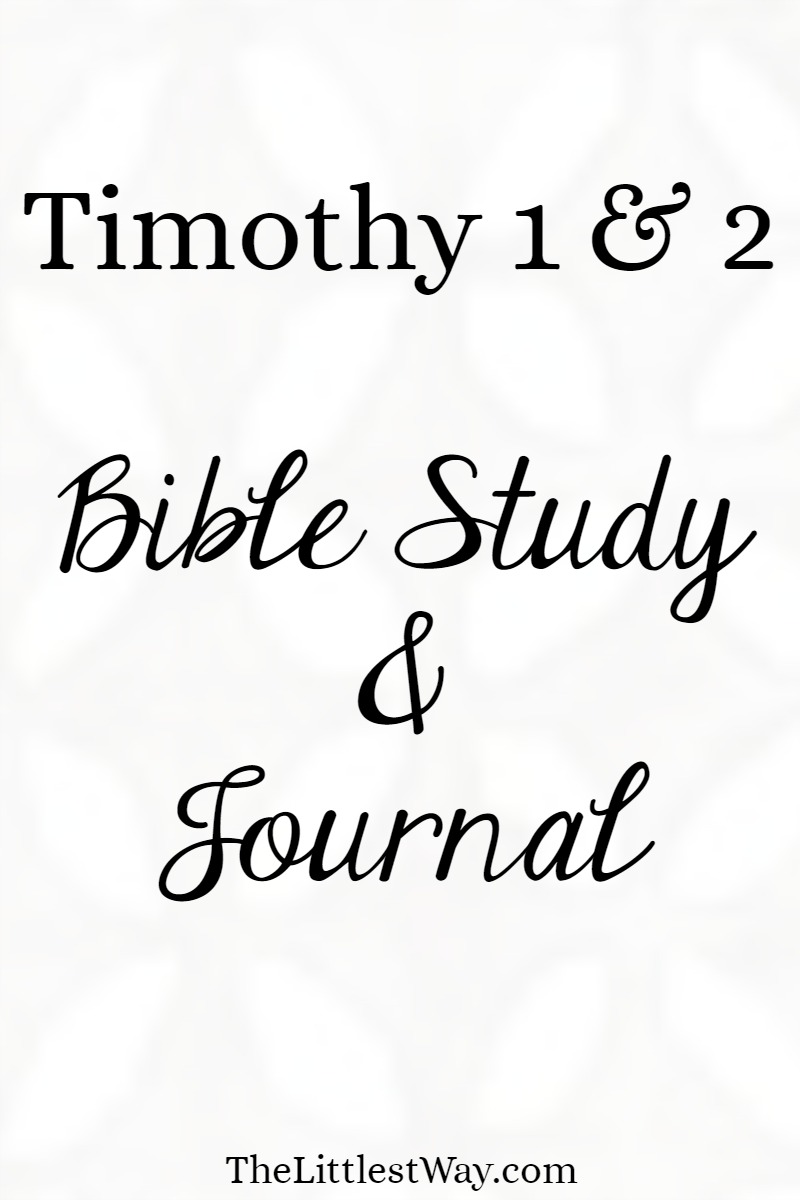 So the plan is each morning we will still meet on Periscope, but we'll come together with our Bible Study and Journal pages.  I printed mine off and put them in my Arc binder.  You can print them off and hole punch them for a three ring binder or have them bound at an office supply store for a couple of dollars as well.
This will be different from when we read Philippians together.  When we read Philippians, we read one chapter a week.  This time we're going to read one chapter a day starting Monday and ending the 31st of March.  The plan is to then begin reading Sirach together…one of my favorite books of the Bible.  I needed the extra time before we started doing that together because…I'm writing a Bible Study and Journal to go along with Sirach!  Please pray for me.  Sirach has 51 chapter and I have a husband and seven children, lol!  Time is at a premium.
Let me quickly tell you a few fun things about this Bible Study and Journal.  First, it has it's own and new Bible Study acronym, S.O.U.L.  Second, the journaling area is a wide, open space.  This gives us room for not only Bible study, but also Bible journaling and verse mapping.  Not sure what verse mapping is?  Watch this archived broadcast where I explain it.  The Bible Study and Journal also has some tips on how to get started color coding your Bible…if you want to.  I also included a chart listing all the books of the Bible so we can cross them off as we read them.  If you've been with us the past four weeks–really?  That went by fast!  Anyway, if you've been with us the past four weeks on Periscope or watching the replays on Katch, go ahead and cross out or highlight Philippians.  Yay us!  One book down!
I'm looking forward to seeing you girls Monday morning as we start reading through First and Second Timothy together!