This post will not be a rant about how the Catholic Bible publishers are totally and completely missing the boat when it comes to Catholic Bible journaling. I will not tell them the number of sales they are missing on a daily basis. I also will not tell them that a large number of Catholics are buying Bibles that do not contain the complete texts of the Bible. I won't tell them these things because I'm sure they are aware of the need for a Catholic journaling Bible. And I will grant them the benefit of the doubt that their silence must mean are they busy working on one. Nope, instead I will tell you about the awesome, amazing, and wonderful solution I have found.
Catholic Journaling Bible
I started Bible journaling two years ago. At the time I started there was one journaling Bible available that contained all the texts of the Bible, sometimes called the Apocrypha or the Catholic Books of the Bible–even though they were the books in all Bibles until they were taken out. Yes, they were taken out, not added in–Church history lesson for the day. The Bible available at the time was the NRSV Notetaker's Bible by Oxford Press. Sadly, it is no longer in print and thus priced high. Other than that, there are no wide margin Catholic Bibles available to Bible journaling. Don't despair though, not only have I found a solution, I actually like this Bible for journaling better. I have two of the NRSV Notetaker's Bibles but this solution is my definite first choice for a Catholic journaling Bible.
In December I started using the New Jerusalem Readers Edition as a Catholic journaling Bible. Let me count the ways I love this Bible for journaling. This Bible has fantastic Bible Journaling Paper. This Bible is paperback book paper. It's not the thin, tissue-like, crinkly, Bible paper. Although my favorite Bible, has that crinkly Bible paper, it's really not all that great to journal on or with. It's thin which means it can tear easy, it doesn't hold up well to acrylic paint or watercolors, and bleed through from pens and highlighters is common. This paper is sturdy and can handle all of the above quite nicely.
The New Jerusalem Bible also has room to stretch out and think or create or both. Although not a wide margin Bible, it has room in the margins for journaling or creating. Because it's not set up specifically as a "Wide Margin" Bible, the text is regular size. In the NRSV Notetaker's Bible, wide margins=smaller text. My favorite Bible is large print. I call it my "Forever Bible" because, God willing I'll still be able to read the print as I continue to age. But just like wide margins equal small text, large text equals small margins.
Lacy has a post showing how she uses the Catholic Study Bible for Bible journaling. Her ideas are great but do require some work either initially to get the pages set up using a treatment or afterward covering the notes using washi to "tip in" a paper.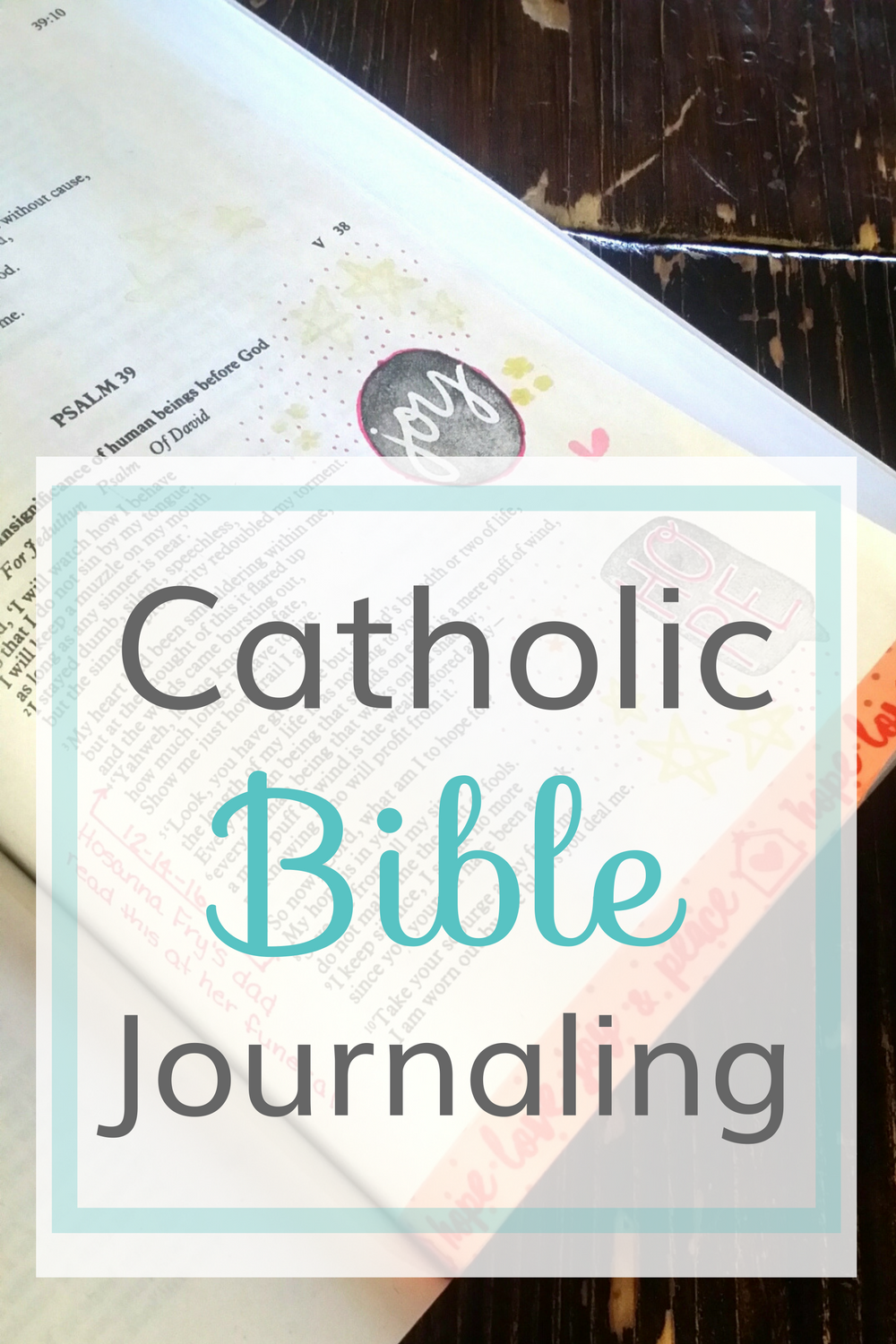 Now that we've talked about the Catholic journaling Bible I've purposed to use for this year. Let's talk about the supplies I'm using. Since I've started Bible journaling, I have chased every new, shiny Bible journaling goodie out there. Which is ironic isn't? This is a spiritual practice to bring me in closer friendship with God and I've spent too much time and money chasing the latest and greatest fad in journaling. Not this year! I'm only using the Illustrated Faith Bible Journaling Kits and Supplies this year. The kits come with everything I need, it matches and they are interchangeable with the other kits.
I have my Bible and I have my supplies for the year. I post frequent pictures on my Instagram account of my Catholic journaling Bible. Click the follow button below to catch the latest.