We are now a little over half way through our 31 Days of Bible Verses about Patience series; well, except for the couple earlier days I missed. I will go back in and fill those days in with a patience post. When you read the title of today's post, were you thinking it sounds familiar? 1 Corinthians 13 is one of the most popular Bible verses, let alone patience verse. This is the oft quoted, "Love is" set of verses. We're not going to go through all the verses. For our study of patience in the Bible, we're just looking at verse 4, "Love is patient and kind; love does not envy or boast; it is not arrogant" Let's look at some different translations for this verse and then talk about why this verse is crucial in our relationships, young or old.
Bible Verses About Patience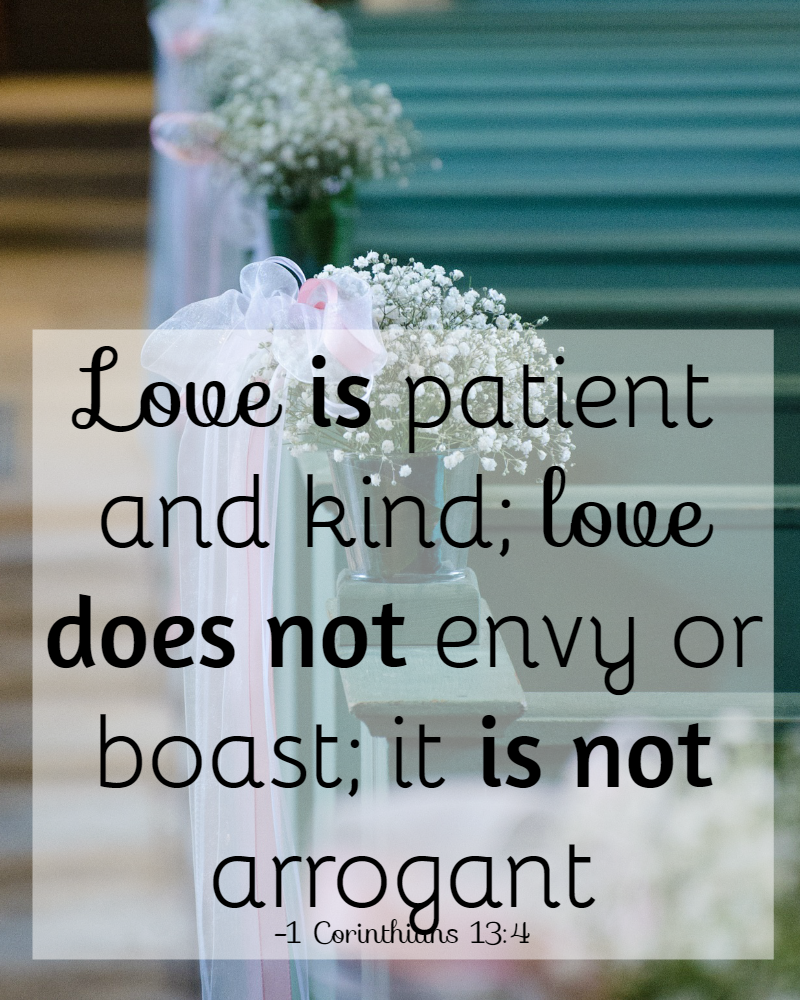 Here are a couple of other translations: "Love is never tired of waiting; love is kind; love has no envy; love has no high opinion of itself, love has no pride;" (BBE) "Love never gives up. Love cares more for others than for self. Love doesn't want what it doesn't have. Love doesn't strut, Doesn't have a swelled head," (MSG) "Love suffers long and is kind; love does not envy; love does not parade itself, is not puffed up;" (NKJV) "Charity is patient, is kind: charity envieth not, dealeth not perversely, is not puffed up," (DR)
First I want to consider the Douay Rheims translation, it's the last one I listed. I like how it uses the word "charity." Are we charitable? Are we kind? Are we considered loving? Oh wait, you probably think I'm asking how we treat other people. No, no, I'm asking if we are charitable to ourselves. Are we kind to ourselves? Are we loving to ourselves? Are we patient with ourselves? Do we envy ourselves? You know, wish we looked or had what we used to have? Ouch! I'll leave you with those thoughts.
Next, as a momma, I need my children to know and understand this verse. I need my girls to know if any friends–girls or boy, is pushing you into something you don't want to do–he/she/they do not love you. If they did, they'd be patient and kind. Does a boy you like talk to his friends about you; not in a sweet way–you know what I mean. Does he put himself above you and your needs? Then he does not love you. Honestly, if he's acting that way, he probably doesn't even love himself. And for my boys, if you love a girl, you better be living this verse. Now for my girls and boys–if you love yourself, you will live this verse and expect to be treated well by others.
Now for my friends. Have you thought any more about the questions I asked above? Loving yourself is a step in the right direction on this virtual "patience" road trip.  Now, I'm not even suggesting we start making excuses for ourselves. Excuses are superficial…grace is supernatural. Excuses are short term…grace is eternal. Excuses make us weak…grace strengthens us.  And all those virtues, un-coincidentially also belong to a patient person and the vices to an impatient person.
Be nice to yourself. Be patient with yourself. Grant yourself grace; the same grace you grant others. You wouldn't call your friend "fat" or "stupid" or "ugly" especially right after she has a baby, gets out of the bathtub, looks in a mirror or can't find anything to wear.  Don't do it to yourself. Take the time to consider and apply these Bible verses about patience to yourself as well as to others.
If you are looking for some formatted Bible Journaling printables, I have a free set for email subscribers to The Littlest Way.  One of the pages is a topical study–just like what I'm doing on Bible verses about patience this month.  Click here to subscribe.