This entire month I'm pondering Bible verses about patience. This month things are less than ideal with my husband's job. I have a young adult woman–my baby girl, living 1300 miles away trying to make it on her own, and then there's just plain 'ol life…during an election year. Ugh! But those scenarios could be easily changed to my husband lost his job, the baby has been teething for the past year and just plain 'ol life. The point being, we will never run out of opportunity to work on patience. This verse from Philippians reminds us how we are to approach God when we take all these "patience testers" to Him, "Don't worry about anything, but in all your prayers ask God for what you need, always asking him with a thankful heart." (GNT)
Bible Verses About Patience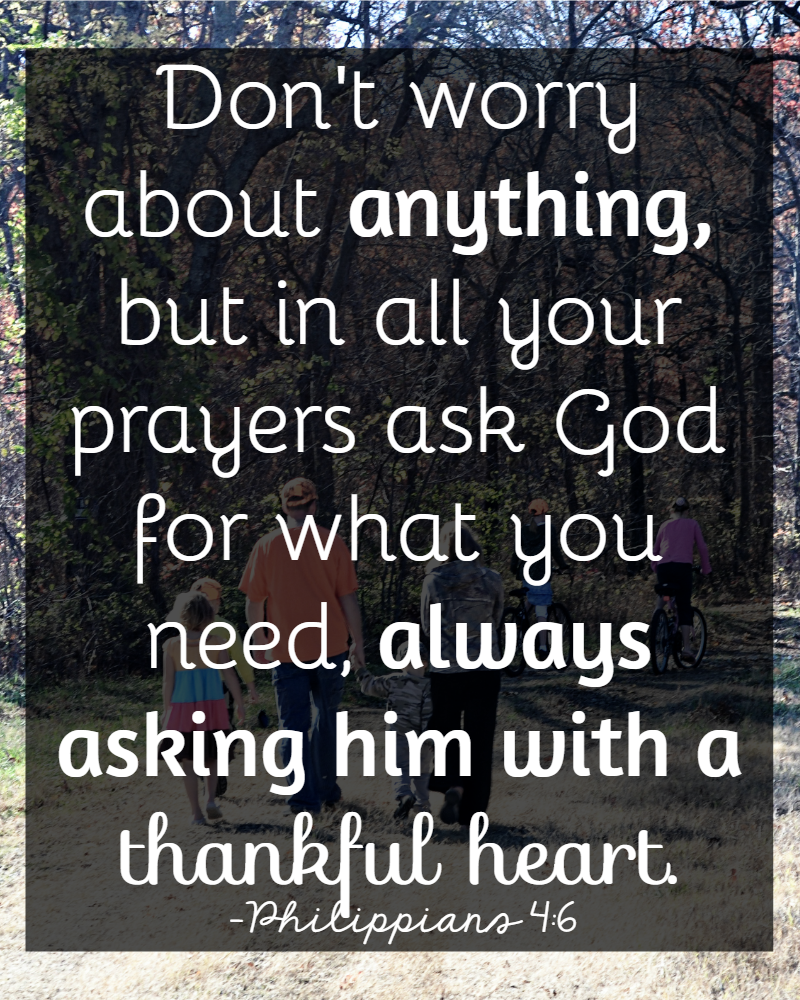 And these "patience testers" are not constrained by the big milestones or events of life. They also include things like a broken washing machine, a car that makes that noise until the mechanic takes a listen, inlaws, outlaws, friends and strangers in the grocery store line checkout. Does it seem I write about the grocery store checkout frequently? These "patience testers" begin the moment we wake up and keep on going until we fall asleep. We have an opportunity to work on our patience 24/7/365. But sometimes, we just quit. Working on our patience is constant and messy and hard and we'd rather veg in front of a screen and let everyone else in our house do the same–preferably different screens in different rooms. Right?
But this patience verse from Philippians can shift our perspective from patience to thanksgiving. Ah, that sounds better. Well, first it instructs us not to worry. Haha! Good one Paul! He must not have been a worrier because telling someone who worries not to worry is like telling someone to not think of an apple. What did you just think about?! An apple! So taking a cue from this verse and using techniques I've used to combat worry–let's replace worry with…prayer.
But wait! Before we jump into prayer to combat worry, let's check this Bible verse about patience again. There are two specifications: 1. Ask for what we need and 2. Ask with a thankful heart.
Let's consider a couple of ways not to do this. First, let's not start asking God to fix other people so we can be more patient. This verse states, "…ask God for what you need…" not what someone else needs. "But I need them to be–or not to be…" No, we need to be or not be regardless of how others are. Does that make sense? It does not matter one bit how someone else behaves–we need to base our patience on right way living not ideal circumstances.
Next, this verse states, "…always asking him with a thankful heart." Does this mean our prayers are always sunshiney, glitter bombs of conversation with God. No, we can cry out–the Psalmist David did and so did Jesus. We can ask questions and offer another way–Jesus did. But ultimately, and if you look at both examples, David and Jesus sought God's will over their own and thanked Him for all He had done and was going to do in their lives and the lives of others. That is asking with a thankful heart. It's a thankful heart because we admit in thought, word or deed that God knows best and we surrender ourselves to Him as an act of gratitude–Thank You for taking care of me God.
Surrender as an act of gratitude? Does that even make sense? Do you keep a gratitude journal? I do (sometimes). When I start listing items from my day, even the so-so ones become a form of gratitude. I am thanking God for everything brought into my day and since He is the one Who arranged that day, just for me, I'm thanking Him. That sounds kind of circular in reason to me and I hope it made sense. If not, let's discuss it in the comments or by email.
Here's what I want you to take away from this post on Bible verses about patience–begin keeping a gratitude journal. This one simple act will decrease the attention we pay to worry and increase the attention we give to thanksgiving. A perfect summation of this verse.