I love this short verse from Romans 12–it's packed! Joyful, patient, and faithful. Hope, affliction, and prayer. This little verse pretty much sums up our lives here on earth. Looking at these verses about patience, I'm beginning to realize it's not as simple as saying Bible verses about patience. When I read these verses, they are so much more than "Be patient because it's in the Bible." They include joy or faithfulness, they touch on hardship and afflictions. I'm seeing patience doesn't stand alone; it's not just waiting something out–it's how or why or even when I'm waiting.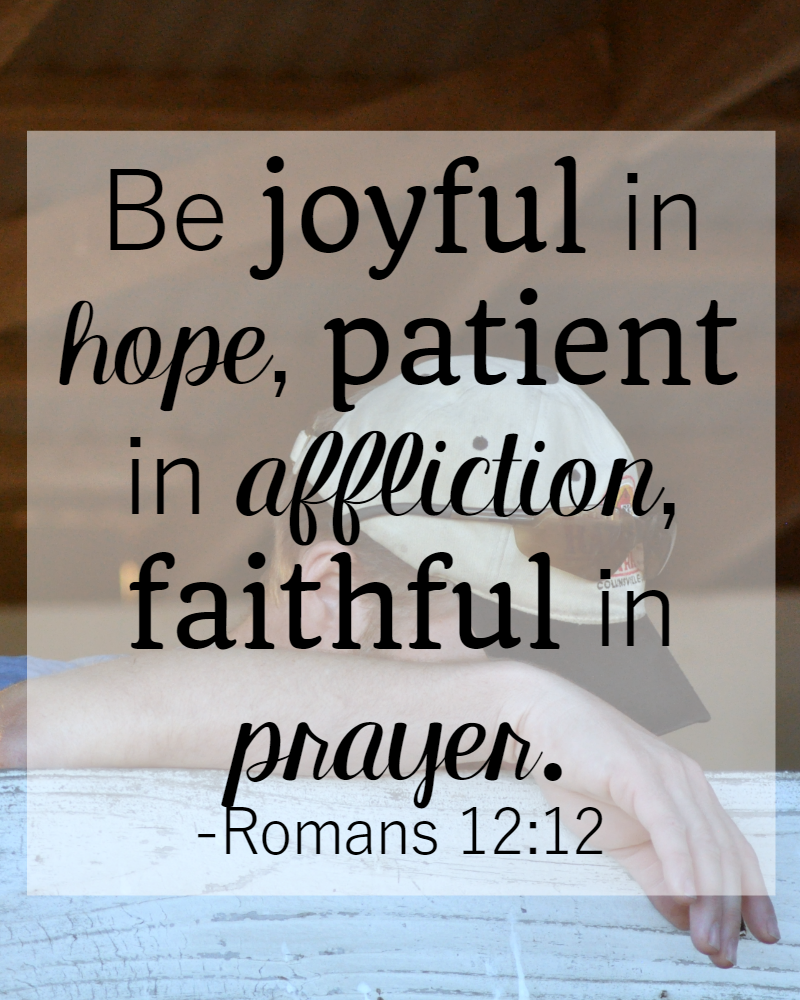 The Bible in Basic English translates this verse like this, "Being glad in hope, quiet in trouble, at all times given to prayer," Be glad in hope…how many times do I say, "Well I sure hope…" if you are even a tiny bit like me, you know the tone of voice I say that phrase in. (In need to insert an eye roll emoji or something.) When I say those words, I can guarantee I'm not saying them with gladness. Ouch! Ugh!
Quiet in trouble…goodness gracious that stings and I'm not even afraid to admit that because as I've just proven, I am not quiet in trouble. Honestly, would there even be a Facebook, Twitter or local news if any of us were quiet in trouble?
At all times given to prayer…Well then, if I were quiet in trouble or glad in hope I think I would be at all times given to prayer, but since I just revealed my struggle with gladness in hope and quiet in trouble, it's a safe bet I'm not always in prayer.
"But I can't be always in prayer! I'm busy! If God wanted me to always be in prayer, He would have made me a cloistered nun!" Yes, I can always be in prayer. Yes, I am busy. No, God did not make me a cloistered nun. Here's the thing about God, He doesn't set us up for failure. So if I'm to be always in prayer, there's a way.
Have you ever heard of a Morning Offering? "The Offering is meant to be prayed first thing in the morning, consecrating the day to the Lord and preparing one to focus all on Jesus and give to Him all that one does during the day." And this prayer isn't just prayed first thing in the morning and forgotten, "The Morning Offering can be renewed throughout the day with simple short prayers (called "ejaculations" or "aspirations"), for ex., "All for Thee, Jesus!"" My day will take many twists and turns, hills and valleys even, but if I've said my Morning Offering, I've already made it a prayer. And if I keep coming back to that offering, I keep renewing my day as a prayer. I'll bet you this one practice alone could easily help me with patience. Suddenly my day isn't something out to get me–am I the only one who ever feels that way? Suddenly, it's a constant opportunity to stay united with God in prayer. And if I'm praying or renewing my prayer, I'm less likely to lose it–it being my patience and my day all together.