I don't know about you, but I do not need "one more thing" to do, pray or make this Lent. I am worn out, weary and need a break–refreshment–and a soul reset. Reading, making and doing this Lent will only be a successful recipe for failure on my part. If you're treading the same water I am, welcome. Climb in this little oasis of a life boat with me for the next forty plus days. I'm going to journey through this Lent the littlest way possible. You see, sometimes I mistake bigger and harder for better and holier. You too? Then these daily devotions for Lent are just for you…and me.
We are going to learn that bigger doesn't always mean better and harder doesn't always mean holier. We always hear the cliche, "It's the little things" and I'm making it a goal to prove that to be true this Lent. My daily devotions for Lent will be little but focus on BIG love. These meditations, reflections and little things to do might seem too simple to be effective. I've learned, simple does not always mean easy.
Instead of focusing on doing one more thing, I'm going to focus on doing one thing a day with more love, or BIG love as I'm calling it–it just sounds more fun. I'm going to smile more, laugh more, love more and be more grateful. Some may think my Lent sounds too easy and frivolous. I will argue this may be my hardest Lent yet. I will intentionally seek beauty, goodness, joy and truth in my day to day, or as I have decided to call it, my "Holy Ordinary."
I figure, if the Lord wanted me to spend my Lent face down on a cold, hard floor at midnight in adoration, He would not have placed me in a home filled with toddlers and teens and in-betweens who each have their own personal sleep schedules and needs only a momma can meet.
If the Lord wanted me to wear a hair shirt towards holiness, He would not have placed me in charge of laundry for nine people–including an outdoors working man and five soccer players.
If the Lord wanted me to offer extreme dietary fasts, He would not have placed me in charge of meal planning and grocery budgeting for nine…enough said!
The Lord placed me in this home, with these people because this is where I will work out my salvation with fear and trembling. This home and these people are my school of holiness and loving more…loving BIG in my home, will foster a greater love for God. And that's the purpose of my Lent, doing little things that will lead me to love BIG.
Daily Devotions for Lent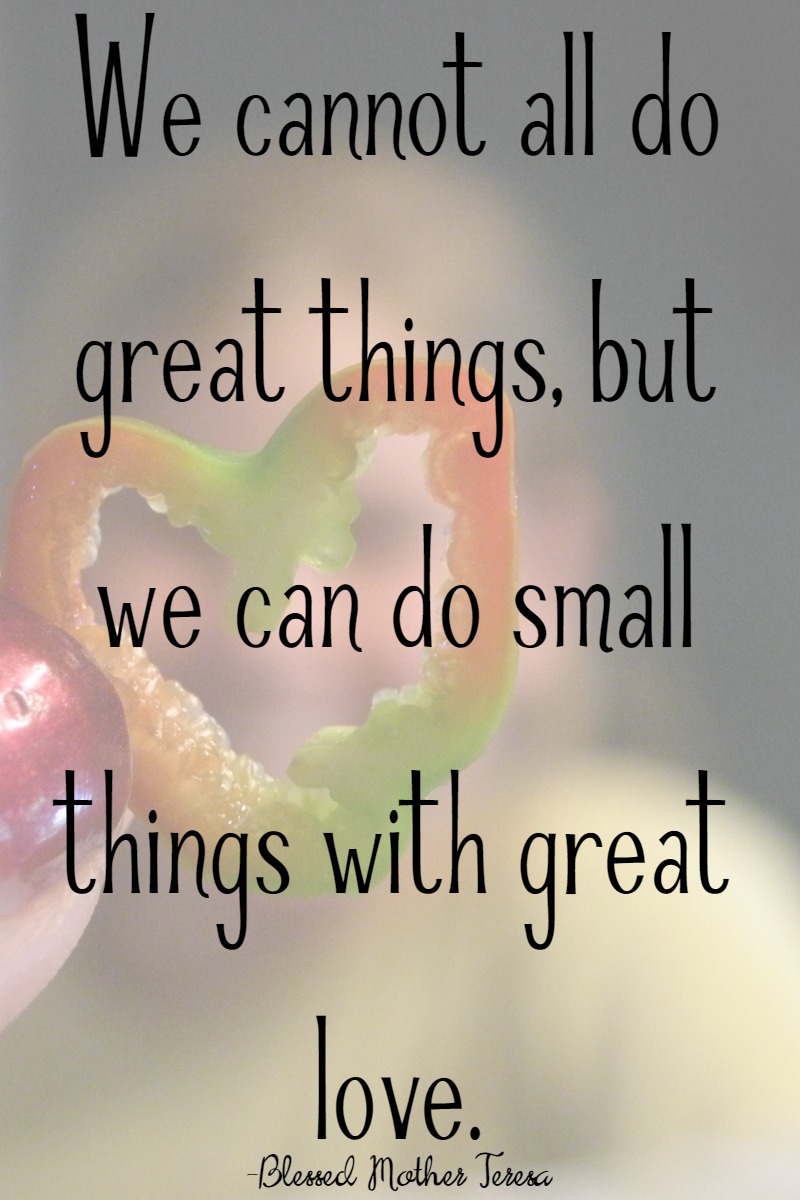 Ash Wednesday
Thursday After Ash Wednesday
Friday After Ash Wednesday
Saturday After Ash Wednesday
First Sunday of Lent
Monday of the First Week
Tuesday of the First Week
Wednesday of the First Week
Thursday of the First Week
Friday of the First Week
Saturday of the First Week
Second Sunday of Lent
Monday of the Second Week
Tuesday of the Second Week
Wednesday of the Second Week
Thursday of the Second Week
Friday of the Second Week
Saturday of the Second Week
Third Sunday of Lent
Monday of the Third Week
Tuesday of the Third Week
Wednesday of the Third Week
Thursday of the Third Week
Friday of the Third Week
Saturday of the Third Week
Fourth Sunday of Lent
Monday of the Fourth Week
Tuesday of the Fourth Week
Wednesday of the Fourth Week
Thursday of Passion Week
Friday of Passion Week
Saturday of Passion Week
Monday of Holy Week
Tuesday of Holy Week
Spy Wednesday
Maundy Thursday
Good Friday