Today's Lent Devotional for Women is going to lead us to consider being a hero. No, this isn't a "How to Save a (Fill in the Blank) From a (Fill in Another Blank)" kind of hero training. This is a "How to Heroically Love When You Don't Feel Very Lovey" kind of message.
One of my favorite, long time Lent devotionals is, Reflections on the Passion. I acquired this book years ago when our pastor was giving away some books before he was reassigned to another state and I choose this little, hardback book from the pile.
I love this book so much our Online Bible Study Community is reading through it together every morning this Lent.
This book is pure gold I tell you! And today's reading may just be one of my favorites.
"…when God seems most deaf to our pleadings in prayer, He may prefer to make heroes of us. Be assured that in time of temptation and trial, God's angels will ever be at our side to comfort, encourage, and succor us."
–Fr. Charles Hugo Doyle
Some days, I don't really care to be a hero. I want to lie on the couch watching the Price is Right eating Pringles. I know, I just gave you a peek into my immature, feeling-based, whiny-baby faith. It's ok, I'm not ashamed to share how God tries to use me as imperfect as I am.
Lent Devotional for Women: It's Not About Us
Sometimes though we need to take a step back and realize our faith is small and weak and lazy and covered in crushed up potato chips because we're making it about ourselves and it's not all about us…it's all about Him.
The Scriptures tell us, "God is love." So if everything is about God, everything is about love.
We aren't practicing loving better or more this Lent because we want to show how lovey we really are…at least I hope not. We're working our way through this Lent Devotional for Women because we're trying to love more and better because we want to show how awesome God is!
We've already established, we want to be more like God and God loves BIG!
By the way, I can assure you, nowhere in the Bible does it mention God chillin' on the couch ignoring our prayers because the next contestant may win a car. So when we're tempted to think God is ignoring us, we need to kick that thought to the curb…do the cool kids still say that?
We need to immediately get rid of the thought that God sometimes ignores us! That comes straight from hell and is only meant to kill, steal and destroy our faith in God and in our prayers!
If the enemy can stop us from praying, he stops us from conversing with God.
So considering our Lent of love and considering our time of prayer, if we don't love, ourselves and others, the enemy has us exactly where he wants us.
And if we're not praying, conversing and learning from God, the enemy again has us exactly where he wants us.
When we start thinking God isn't listening to us, what's the very next conclusion we come to? "He must not love me." We think if God loved us more, this or that would happen, or we would be like this or we would have that. And suddenly, we are in one big tangled mess!
And guess what, a tangled mess of a person, doubting how much God loves them, is ineffective to spread the Gospel in thought, word or deed.
Enemy-1 Us-0.
All he has to do is keep us there and he wins.
Here's the plan in this Lent Devotional for Women–we are going to come out of this Lent knowing that God's love for us and our faith in Him are not based on feelings, at all. "Yeah, but…"
So how do we imitate God's BIG love? We love. We love regardless of how we feel.
We don't love only when…
We don't love just because…
We don't love if only…
We love. Period.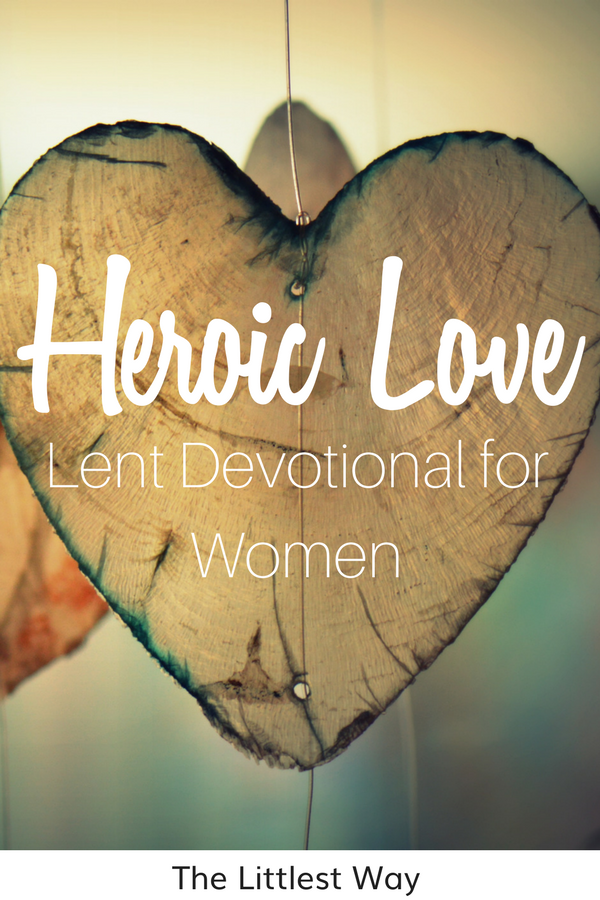 An old prayer to pray for ourselves as we journey through this Lent Devotional for Women, "Enlighten our minds we beseech Thee, O Lord, with the light of Thy brightness: that we may be able to see what we ought to do and have the strength to do what is right."
We know what we ought to do right? We ought to love. So let's pray especially for the strength to love.
The strength to love when we're tired…moody…hungry…stressed…offended…and just plain put out. You know and I know, God will surely answer that prayer. The pray asking Him to give us the strength to love…the prayer asking Him to give us the strength to love BIG.
Click here for all the Lent Devotional for Women posts
*Updated and reposted from the archives