Because being in love bears repeating, "I love planners" says any happy planner girl. Aside from the obvious "happy days" like Thanksgiving, Christmas, Easter, and birthdays, I love back to school and end of year time. At back to school time, all the office supplies are out and well stocked, the store aisles smell like paper and pretty pens decorate the end caps. And the end of year time is when all the pretty planners start appearing in my emails, newsfeed, and dreams. Yes, a happy planner girl can even dream of just the right planner. I may love planners too much…bad for me, good for you. I'm taking this almost end of the year to review planners for you and share pictures of the inside. You're welcome. Also and most importantly right now, Dayspring has a couple of their planners BOGO until December 2.
Happy Planner Girl: Illustrated Faith Planner Review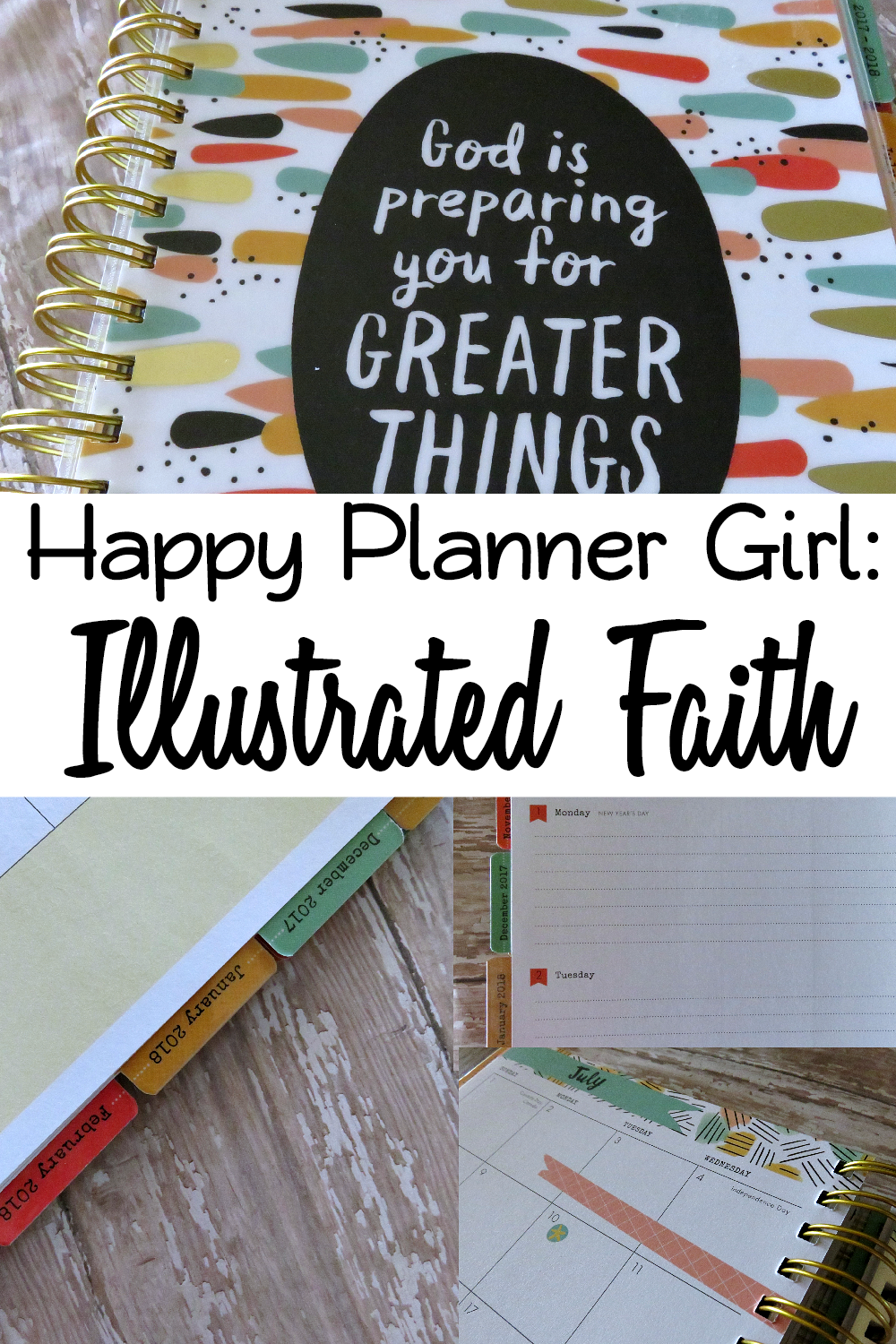 The first thing I noticed about all the Dayspring planners was the bright colors. I'm sharing the Illustrated Faith planner but the other Dayspring planners are the same in format, just different colors. Part of makes the colors so noticeable is the shiny gold accents. "Fancy" as my children would say! The cover is sturdy laminate, which means this baby is wipeable. The gold spiraled coil is big and strong, I can add all sorts of inserts to this planner without fear of pages not being able to turn.
Next are the lovely decorative pages. The decorative pages are the tabbed month pages. They add fun and whimsy to the planner, something I appreciate because honestly, if I didn't want to, I wouldn't have to add a single strip of washi tape or stickers to this planner and it would still be beautiful and fun to use. And if I do decide to add washi and stickers, there's still room for that.
The Illustrated Faith and Dayspring planners feature a month on two pages spread with a notes section and previous month and next month section down the side. The tops of the pages are decorated as are some of the squares. Really, if you're brand new to decorating your planner, this may be a great way to start since some it is already done.
This planner is a week on two pages, horizontal layout. I have seen people place a strip of washi tape down the center to divide the daily section into two parts–maybe work, home or to-do, appointments. Shanna Noel has a Youtube video showing how she uses this planner as a prayer journal.
There is a notes section at the back with lined, grid, and blank paper as well as three sticker sheets, Holiday lists, next years calendar and a pretty pocket.
I think my favorite part of this planner is the colorful, artistic embellishments. Well, and the fact that until December 2nd this planner is part of the Buy One Get One sale at Dayspring. This is a great option if you use separate planners for home and work, or fitness and prayer, a yearly memory book and a household planner.
Click here to find your new planner while they're on sale, buy one get one.
Also, and this is important! When you sign up with Ebates, you'll earn 6.5% cashback on your Dayspring purchases. If you're new to Ebates, you get $10 just for signing up! Click here through my referral link. You can also use Ebates on Etsy–1% cashback, Kohls–6% cashback, Walmart–6% cashback, etc. The list of stores is incredible!