I'm not sure I'm ready for this verse. I don't have commitment issues–spiritually or physically–but when I read a verse in the Bible using the word, "completely" I get a little worried. I get worried because what if God actually means "completely?" Some synonyms for completely are: absolutely, effectively, fully, perfectly, thoroughly, ultimately, undividedly. Look at this verse from Ephesians 4, "Be completely humble and gentle; be patient, bearing with one another in love." And just when I think I'm studying Bible quotes about patience, God throws in humility and gentleness. And the word, "completely." Are we ready for this one?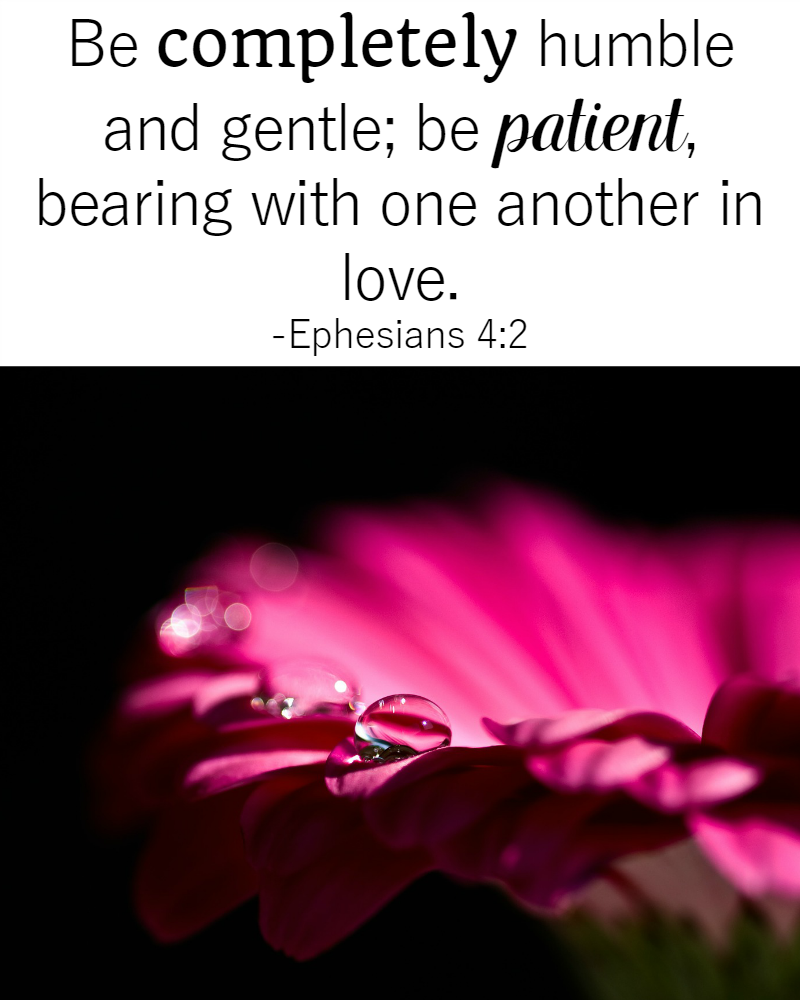 Let me start by saying, I appreciate the word "ultimately" is a synonym for "completely." It means I have time to practice. Although the word "completely" threw me in this verse, it absolutely makes sense that humble and gentle would be included in patience Bible verse. Impatience is a sure tell sign of pride–lack of humility. And impatience leaves us feeling and behaving anything other than gentle.
I have found myself, more often than I care to admit, becoming impatient with my husband or children because, "They don't know…everything I do for them…all the things I have to do…everything about everything!" "This is just one more thing," I mutter or say loud enough for anyone within earshot to hear because I want my feeling known for goodness sakes! Oh Jenny, Jenny, Jenny. Girl, that is pride in all of its ugliness and these Bible quotes about patience are stretching me to places I didn't know I'd be dealing with.
I have found myself reacting with harsh words when things are not going my way. Harshness–the opposite of gentleness. Instead of patiently bearing the situation, instead of humbly bearing the situation, I find myself being harsh. And harsh isn't confined to our words, right? Closing the refrigerator door a little harder than usual? The car door, dryer door, door to the bathroom…are there any doors I've left out? Setting our purse down hard on the counter? Banging a pot getting it our of the cabinet or setting it on the stove? I know I could go on and so do you. We do it. We're not proud of it, but we do it. We let impatience get the better of us. Man, these Bible quotes about patience are eye-opening! Who kew reading that one verse would begin to teach me a lesson about how I close a door or set down my purse.
And finally, bearing with one another in love. Some verses say: putting up with one another in love, accept each other with love, lovingly accepting each other, pouring yourselves out for each other in acts of love, making allowance for each other's faults because of your love, supporting one another in charity. All of those phrases state exactly how I want to treat others. I want to love them. I don't want to let my patience or impatience rule my interactions with people. I don't want pride or harshness to be a character trait I entertain when things don't go my way.
I want to be ultimately, completely, humble, gentle, patient, and loving.