You might be surprised at all the Bible verses about patience you will find in this post, much less the Bible. But first, let me ask you, have you ever prayed for more patience and it seemed like all "you know what" broke loose!? It makes me think of the funny meme I've seen that says, "Bless me with patience…not opportunities to be patient, I've had plenty of those and they don't seem to be working!"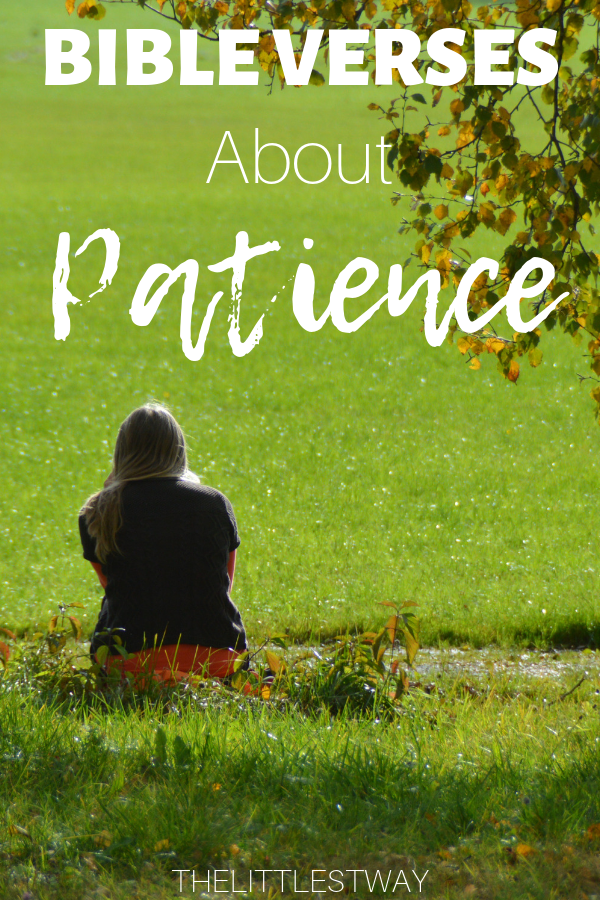 The Word of God is Full of Bible Verses About Patience
When I started searching the Bible for verses about patience I was totally surprised by how often patience is addressed in the Bible! Even better, I'm still finding new Bible Verses about patience the more I search. Every new verse I find, I realize, that as with most things in life, I can turn to the Word of God for wisdom and counsel. And honestly, I'd much rather learn from the Word of God than the world on how to imitate and be more Christ-like, for example, more patient.
In my Bible Journaling Tips, Inspiration, and Permission book, I have two whole pages listing Bible verses about patience for a Topical Bible Study. That's one of the many word studies included in the Ebook.
Reading Versus Living Bible Verses About Patience
Reading Bible verses about patience is the easy part though, it's living them that's hard. At night when I consider in my nightly examen, "Was I patient with myself and others today?" I have to honestly say "No" many nights. And since I'm being honest here, I also have to confess being a bad example to my children in the area of patience.
And just like I need daily affirmations to help me through the day, weeks, months, and years of my life, I also need to rely on the Word of God to teach and strengthen me.
Patience Intertwined with Pride
I also need to add, when I started examining the Scriptures for verses about patience, I also realized I needed to examine Bible verses about pride. The two are the best of friends and they can very easily gang up on me and you.
Let me show you how these best of friends operate. My pride initially sets my expectations for how I think things should go or be done–my way of course. When my expectations are not met, pride's best friend, impatience rears an ugly head.  "Don't you know I'm…Didn't you realize I'm…I'm trying to…I'm going to…I need…I want…I expect…I thought…"  Me–Me–Me, a sure and glaring sign of pride. 1 Thessalonians 5:14 and 2 Timothy 2:24 address our expectations contributing to our impatience.
An Impatient Nag is Born
One of the ugliest truths about impatience is that is so much easier to recognize and try to correct in someone else.  Ahem. This is the part of the story where I think I'm gently correcting but more often than not I've become an impatient nag! Double Ahem.
How many times does my impatience with myself end up looking like agitation and impatience with someone else? More times than I personally care to admit! So in this struggle to become more patient, I also need to add the virtue of endurance; the stamina to either remain patient or to continually redirect to my heart and mind to practicing patience. Luke 21:19 and Romans 5:4 are perfect Bible verses to reflect on for this particular issue.
What's Really Going On Here?
So what is the solution to impatience? I think we need to ask ourselves some questions to figure this one out. The first one is, "What's going on here? Is this situation really a problem or is it just not meeting my expectations?"
For example, I run into the grocery store to buy milk and eggs and end up standing in line for 15 minutes for two items. By the time I get to the car, I'm a mess and I need something for my impatient induced headache, antacids for my churning stomach because I've gotten myself all worked up or a drink (something strong or warm or both) to set myself back right with the world!
Was the problem:
I expected to run in and run out? I expected all cashiers on hand for little 'ol me? I expected an experienced cashier? I expected the lady in front of me to have her act together?
Romans 15:5 or Ephesians 4:2 would certainly be a couple of verses about patience I would need to recall in a situation like that. Both of those verses address how I should treat others. They use such descriptive words as: harmony, accord, lowliness, meekness, and forbearing. Ouch.
What if I decide there really is a problem? What if it's not my expectations, it actually is the situation? And what if the "problem" is actually an "opportunity?" Using the above grocery store example; could it be the Lord giving me some down time–albeit in a grocery line–to just be still for a minute?
Could the Lord be offering me an opportunity to smile at my fellow shoppers? I may have been the only person they saw that day who smiled at them.
Could the Lord be offering me a nice, although normal, everyday training ground to work on the virtue of patience?
And after the fact when I think back over the grocery store scenario, did I squash the opportunity to practice patience with the agitated tapping of my foot? Really, there are worse ways to learn patience than standing in a grocery line right? Waiting on test results from the doctor or a call about a sick loved one in another state or a terminal illness…There are definitely worse ways to put my patience, or lack of, to the test.
When I encounter these moments that rile up my patience, I need to step back and consider, maybe this is actually for my good. Psalm 37:7-9 or Isaiah 40:31 are scriptures suitable for this pondering.
Maybe the opportunities to practice patience are not only for the sake of patience. Maybe there are other virtues that will be refined and strengthened in this process. Below you will find an ever growing list of posts on this topic. Bookmark this post because I will be adding to the list.
More Bible Verses About Patience Posts
Bible Verses About Patience: 1 Thessalonians 5:14
Bible Verses About Patience: 2 Peter 3:9
Bible Verses About Patience: Hebrews 6:12, 15
Bible Verses About Patience: Galatians 5:22
Bible Verses About Patience: 2 Timothy 2:24
Bible Verses About Patience: Hebrews 10:36
Bible Verses About Patience: Hebrews 10:36
Bible Verses About Patience: 1 Corinthians 13:4
Bible Verses About Patience: Philippians 4:6
Bible Verses About Patience: Galatians 6:9
Bible Verses About Patience: Colossians 3:12
Bible Verses About Patience: Romans 12:12
Bible Verses About Patience: Romans 8:25
Bible Verses About Patience: Psalm 130:5
Bible Verses About Patience: Ecclesiastes 7:8
Bible Quotes: Patience in the Bible